Ex-Beauty Queen, Dabota Lawson Buys Herself A New Lexus LX 570 Car Worth N38Million (PICS/VID)
Ex-beauty queen and one of Nigeria's most beautiful people at that and a mother of one, the statuesque Dabota Lawson, Dabota Lawson, the Ex-Miss Nigeria UK buys a new whip, Lexus LX 570 car for herself.
And this she announced through her Instagram page today, February 6 where she posted photos and videos of herself accepting the shipped car from the car dealer, Zuab Motors.
Dabota however thanks Zuab for delivering the car right at the time she needs to use it.
Quote
"Thank you @zuabmotors for delivering right on time",
she wrote.
Which has been causing ripples or better still major sensation since it 'arrived'.
The delightsome white machine with all the works, is sure a delight to behold and must have cost her or cost the giver of the gift, a few tens of millions of Naira, more like between N38 to about 35M Naira. And to celebrate the newest  arrival of the monster on wheels, there was a lot of fanfare by her delighted staff members. So delighted was she herself about the wheels that, she happily saluted 'Zuab Motors' who apparently delivered the car to her, right on time like she said, for the make up entrepreneur and shopping complex owner.
The culmination of it all is this her 2017 white Lexus LX570 SUV. We had told you all then after Adenike Balogun aka Nikky Bizzle, who is in fact Dabota's first cousin and partner at Diamond Ink Events Ltd, took delivery of her immaculate white Range Rover Velar then to open the new year 2020, that it was going to cause a whole lot of panic and that many would thereafter go all the way and all out to acquire their own new machines, now the race has begun in earnest. So it's Nike Balogun – White Range Rover Velar, Dabota Lawson-White Lexus SUV, so who is next?

?
Check below for photos;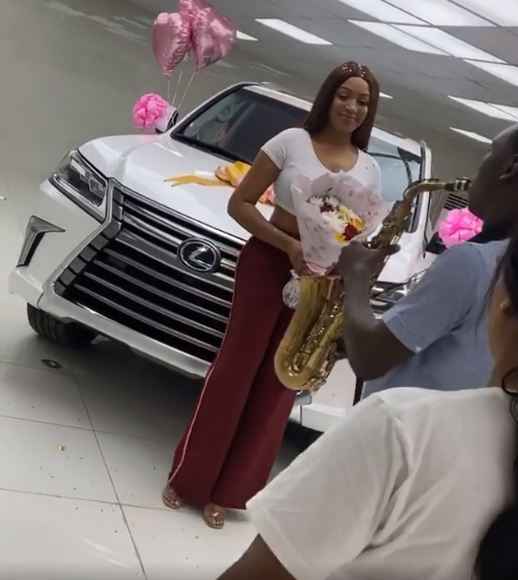 About The Author
You Might Be Interested In